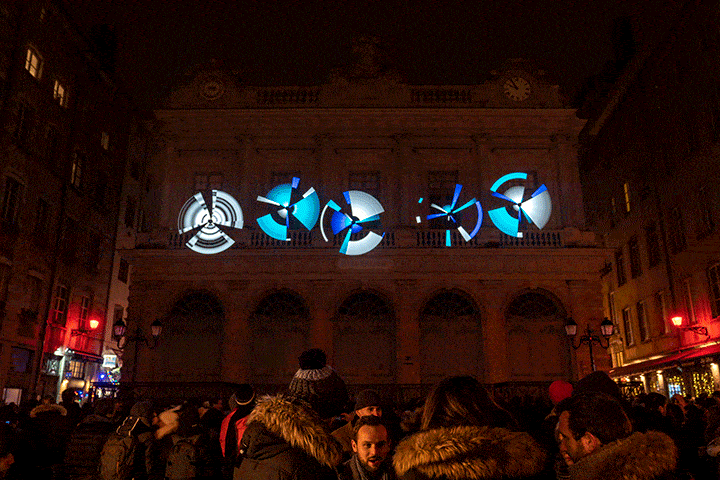 Assemblage de technologie digitale et d'électromécanique, FloWeЯ PoWeЯ exploite le principe de la persistance rétinienne. La lumière devient matière, elle forme des éclairs concentriques et des spirales infinies, semblables à des fleurs multicolores. Le dispositif invisible ne laisse apparaître que les traces lumineuses des LED qui finissent par se fondre dans la transparence de la nuit.
C'est en effectuant des essais pour figurer les anneaux de saturne autour d'une de nos planètes gonflables que nous avons créé nos premiers anneaux lumineux en combinant lumière et vitesse.
Avec cette installation, nous proposons une envolée hallucinatoire sans psychotrope. Défendant des valeurs d'amour et de paix, ce projet contemplatif n'a d'autre vocation que d'offrir des fleurs numériques aux spectateurs.
Création originale Aérosculpture-Lyon Fête des Lumières 2019; artistes Jean-Pierre David et Christian Thellier; développement technique Olivier Clapé; production Maria Belloir.
Partenaires: Marignan, ComhiC, Ginkgo Advisor et 6e Sens Immobilier.
/
FloWeЯ PoWeЯ is an assemblage of digital technology and electromechanics. It exploits the principle of retinal persistence. Light becomes material, it forms concentric flashes and infinite spirals, similar to multicolored flowers. The invisible device only reveals the luminous traces of the LEDs which eventually melt into the transparency of the night.
It was by performing tests to represent the saturn rings around one of our inflatable planets that we created our first light rings by combining light and speed.
With this installation, we offer a hallucinatory flight without psychotropic. Defending values of love and peace, this contemplative project has no other vocation than to offer digital flowers to spectators.
Original creation Aérosculpture-Lyon Fête des Lumières 2019; artists Jean-Pierre David and Christian Thellier; technical development Olivier Clapé; production Maria Belloir.
Partners: Marignan, ComhiC, Ginkgo Advisor and 6e Sens Immobilier.
—